Links
---
Municipal Office
182 Kings Highway
Middleton, NH 03887
Phone: (603) 473-2261
Observed Holidays
The Town office is closed on the following holidays:
New Year's Day, Civil Rights Day, President's Day, Memorial Day, Independence Day, Labor Day, Columbus Day, Veterans Day, Thanksgiving Day, Thanksgiving Friday, Christmas Day
(Back to top)
---
Animal Control
Animal control can be reached through the Strafford County Dispatch Center at 603-473-8288. The Dispatch Center will send the on-duty officer to assist you in your needs.
Animal Control Laws are enacted by the State of New Hampshire. A list of applicable laws can be found at the below link.
Links
(Back to top)
---
Assessing
Contact Information
Phone: (603) 473-5208

Email: assess@middletonnh.gov

Hours

Monday: 9:00-1:00
Tuesday: 9:00-5:00
Wednesday: 9:00-1:00
Mission
The Board of Selectmen is, by New Hampshire State Statute, granted the responsibility to appraise the value of property. As in most towns in New Hampshire, Middleton's Selectmen engage a professional Assessing firm to perform assessing duties. The Town of Middleton has contracted Avitar, an accredited New Hampshire based assessing firm for this purpose. They also employ an Administrative Clerk whose position includes assisting with the day to day assessing duties:
Updating and maintaining all assessing, sales, land data, tax maps, building permits, and all town-approved exemption information both manually and in CAMA database.
Producing semiannual Tax Warrants, all State (DRA) required and requested reports, abatements, exemptions and other forms and correspondence as needed.
Working with the citizens, answering questions on assessment, abatement, and tax exemption issues. Working with other assessing customers including Real Estate Agents and Appraisers.
Perform ancillary administrative duties including phone coverage, filing, copying, producing correspondence and specialized report creation as needed.
Links
Please visit our Documents section for additional documents.
(Back to top)
---
Board of Selectmen
Board of Selectmen meetings are held on the first, second and fourth Monday of every month. The meetings are held at the Old Town Hall at 6:30pm. The second Monday is designated for department heads to give their reports and discuss issues with the Board of Selectmen. The public is welcome to all meetings. Selectmen welcome public input during during Public Comment at the end of the meeting.
Contact Information
Carol Long - Selectmen's Secretary / Bookkeeper
Email: ssbk@middletonnh.gov
Phone: (603) 473-5202
Fax: (603) 473-2577
Hours: Monday - Thursday 8:00-4:00
Board Members
Roxanne Tufts-Keegan, Chair
Scott Ferguson, Vice-Chair
Tracy Donovan-Laviolette, Member
Michael Green, Member
Timothy Cremmen, Member
(Back to top)
---
Code Enforcement/Health Officer
Contact Information
Carl Roy - Code Enforcement Officer/Health Officer
Email: ceo@middletonnh.gov
Phone: (603) 515-6129 (Cell)
Hours: BY APPOINTMENT ONLY
Please visit our Documents Page under "Code Enforcement" for additional documents and links.
(Back to top)
---
Highway Department
Contact Information
Location: 200A Kings Highway, Middleton, NH 03887
Email: roadagent@middletonnh.gov
Phone: (603) 473-5229
Hours: Monday - Thursday 7:00-4:00
Staff
Dan Phillips, Road Agent
James Keegan, Foreman
Robert Page, Laborer
Mission Statement
The goal of the Middleton Highway Department is to provide the travelling public with a safe and efficient road system, while using the most cost-effective means possible. Through responsible fiscal management of taxpayer dollars, this goal is accomplished mainly by the diligent efforts of the Highway Department Employees, and taxpayer support.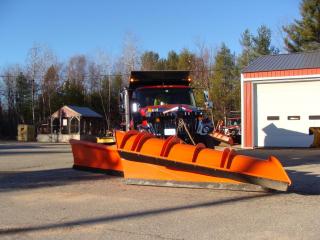 Department Overview
The Highway Department Staff consists of 3 full time employees and 1 seasonal employee. The Scope of Work covered by the Highway Department > includes:
WINTER MAINTENANCE
Plowing, sand and/or salt treating are the main duties during the winter months. During times of excessive snowfall a considerable amount of time may be spent pushing back and "shelfing" snowbanks. During winter months it is our goal to keep the roads clear of ice and snow. On paved roads we try to maintain an average of 2' of exposed shoulder to allow room for snow during plowing operations. On dirt roads we try to maintain enough road width to provide for safe travel.
SUMMER MAINTENANCE
Maintaining roadside ditches, roadside mowing, road paving and reconstruction projects, roadside pruning and tree removal, sign maintenance, culvert cleaning and replacement, street sweeping are the main duties of the highway crew. Other duties include operating the town's gravel pit. The Town of Middleton saves a considerable amount of money each year by producing their own sand and gravel products. Also, the crew is involved with miscellaneous duties ranging from equipment maintenance and repair, building maintenance projects, grounds maintenance, to metal and electronics drop-off days, etc… There is also a Highway Dept. crew member on call at all times to cover any issues which may occur during off hours.
Links
(Back to top)
---
Town Clerk & Tax Collector
Contact Information
Theresa Jones - Town Clerk/Tax Collector

Wanda Rawlinson - Deputy Town Clerk/Tax Collector

Phone: (603) 473-5210

Email: tctx@middletonnh.gov

Hours

Monday: CLOSED
Tuesday: 10:00-6:00
Wednesday: 8:00-4:00
Thursday: 10:00-6:00
Friday: CLOSED
Services
The Town Clerk/Tax Collectors Office provides the following services to the residents of Middleton:
Bi-annually collection of property taxes
Boat and motor vehicle registrations
Dog licenses
Certified copies of birth, death and marriage records
Hunting and fishing licenses
OHRV registrations
Administers the oath of office to all elected and appointed officials
Provides access to public records
Notary Public Service
Conducts State Elections with the Secretary of State, including voters registration and absentee voting
Links
Please visit our Services Page for more information on these services.
(Back to top)